WB HS Result 2020 – Students can check West Bengal 12th result 2020 from this page. It has been declared by West Bengal Council of Higher Secondary Education (WBCHSE) online at wbchse.nic.in and wbresults.nic.in. To check WB HS result, roll number and the registration number is needed by the students. Generally, the mark sheet is distributed by the schools, however, this year, students shall be able to download it online. Check more details on WBCHSE result 2020 from this page.
— WB HS Result 2021 Today – Check Here —
WB HS Result 2020
Register for Board Exam Result Updates
As per the sources, more than 8 lakh students appeared in the HS exams from all streams. Students who appeared for the exam can check the schedule for declaration of WB HS result 2020 from the table below.
| | |
| --- | --- |
| WB HS Result 2020 | Important Dates |
| WB HS exam date 2020 | 12-27 Mar 2020 |
| WBCHSE result 2020 date | 17 Jul 2020 |
| Declaration of PPR / PPS result | 01st week of Jul 2020 |
Check here: Link 1 | Link 2 to check WB HS result 2020.
West Bengal HS Result 2020 Key Highlights
At the press conference, WBCHSE president Mahua Das briefed the media the following for West Bengal Uccha Madhyamik Result 2020:
WBCHSE 12th Scrutiny process 2020 – Students who are not satisfied with their marks can apply for scrutiny by evening and the deadline to apply for scrutiny is July 31.
State CM Mamata Banerjee congratulates the students – The chief minister of West Bengal, Mamata Banerjee took to Twitter to congratulate students. In the tweet she said, "Uchcho Madhyamik (Higher Secondary) results are out. Students are taking another step forward in their beautiful lives. Congratulations to them all, along with their principals, teachers and parents. The future is waiting for you,"
Gender wise pass percentage – This year too, boys have outscored girls. The pass percent of boys is 90.44% while the pass percent of girl is 90%.
Students with more than 90% marks – A total of 30220 candidates have obtained more than 90% marks in the West?Bengal class 12th exam.
Highest score by a candidate – The Board president informed that highest score secured by a candidates is 499 out of 500. This year, the board is not releasing the merit list for WB HS exam 2020.
Pass percentage – This year, out of the 7.61 lakh students who appeared in WB?class 12th exam, 6.8 lakh students passed the exam. The overall Pass percentage is 90.13%.
District wise pass percentage – Kolkata recorded the highest pass percent among all the districts of West Bengal.
key Highlights for the exam addressed by the President
This year, the scrutiny fees has been reduced from 60 to 50 while the review fees have been reduced from 100 to 75, WBCHSE president said.
Review and scrutiny of WB HS answersheets have to be completed by 31 August, 2020.
The answer sheets were held up in railway stations and police stations.
Cyclone Amphan also affected the evaluation process.
West Bengal board could not class 12th exams for 14 subjects due to COVID-19.
The West Bengal Higher Secondary exams were held for 37 subjects till March 21, before the coronavirus related lockdown was imposed in the country.
The question papers for West Bengal class 12th exam were also published in Santhali and Ol Chiki language.
How to Check West Bengal HS Exam Result 2020?
The result for WB HS exam 2020 is released by online mode only. No hard copy of the result is sent to the students via post or by email. Hence, to check the result, you may follow the instructions as provided below.
Step 1: Click on the direct link on this page to check WBCHSE result.
Step 2: Next, the students have to log in using roll number and registration number as mentioned on their WB HS hall ticket.
Step 3: After entering the details, click on the submit button.
Step 4: Once you submit the details, your result will appear on the screen.
Step 5: Finally, check your result and you may download the provisional marksheet for future reference.
Different websites to check West Bengal HS result 2020

Other than the official website, students can also check their result from any of these websites too:

– www.exametc.com
– http://www.results.shiksha 
– http://www.westbengal.shiksha 
– www.indiaresults.com
– www.technoindiagroup.com
– abpananda.abplive.in
– www.fastresult.in
– www.news18bangla.com
– abpeducation.com
How to get West Bengal HS Mark sheet 2020?
Once the board declares the class 12th result 2020, students who pass the exam can collect their original marksheet from their respective school. All the Heads of Higher Secondary Institutions or their authorised representatives will have to collect HS mark-sheets and other relevant documents from their respective Distribution Camps from 2.00 PM onwards on 31 July 2020 and issue the same to concerned guardians/candidates as early as possible maintaining proper protocol and social distancing.
Details Given in WBCHSE Result 2020
In the result for WBCHSE exam 2020, you will see that the following detail are mentioned.
Roll.
Number.
Student's name.
Total marks obtained.
Overall grade.
Overall pecentile.
Status.
Subjective grade & Percentile.
Sample image of WB HS (12th) result is given below…
WB HS 2020 Cut Off Marks
Students who obtain the minimum cut off marks as set by the board are included in the top 20 list. It is released as soon as the result is announced. Students can check the previous year cut off marks for top 20 percentile from the table below.
| | |
| --- | --- |
| Category | Cut off marks |
| General | 355 |
| SC | 336 |
| ST | 301 |
| OBC | 402 |
| Physically challenged | 350 |
WBCHSE Scrutiny/ Review Result 2020
After WB HS result 2020 is declared, many students may have a doubt regarding marks obtained by them in the exam. The board allows the students to apply for the process of scrutiny and review of WB HS result. It is also known by the name of Post Paper Scrutiny (PPS) and Post Paper Review (PPR). To apply for PPR / PPS, students need to fill the application form online and pay the required amount of fee. Students must apply for scrutiny/ review within 15 days from the date of declaration of result.
Once the application submission deadline is over, the Board declares WB PPS / PPR result online at wbresults.nic.in. To check the result, students need their roll & no. and marksheet number when applied to PPS / PPR.
WB HS Result Statistics – 2019
Along with the result, the students can check the West Bengal 12th result statistics for the year 2019 from below.
Number of test centres – 713
Number of students registered – 7,90,756
Number of students who appeared for the exam – 7,77,266
Overall pass percentage – 86.29%
Number of students who scored above 90 per cent – 7,818
Past year statistics – Students can also take a look at the past year WBCHSE result statistics from the table below:
| | | | | |
| --- | --- | --- | --- | --- |
| Year | Appeared Candidates | Overall Pass % | Girls % | Boys % |
| 2014 | 7,50,000 | 82.56 | 79.71 | 80.66 |
| 2015 | 6,62,000 | 86.74 | 84.88 | 85.23 |
| 2016 | 7,89,204 | 83.65 | 82.26 | 85.11 |
| 2017 | 7,44,507 | 85.65 | 79.62 | 86.34 |
| 2018 | 8,04,895 | 83.75 | 53 | 47 |
WB HS 2020 Toppers List
With the declaration of HS result 2020, the list of top districts and name of toppers is also known. Students can check the list of previous year toppers and top districts below.
District Toppers – Previous Year
Purba Midnapore District secured the first position with 94.19%
Kolkatta District holds the second position with 91.41%
Paschim Midnapore District secured the third position with 90.94%
Previous Year Toppers
1st Rank- Shovan Mandal and RajarshiI Barman with 99.6%
2nd Rank- Tanmay Maikap, Swarnadip Saha, Hritam Nath, Anatap Mishra and Sanjukta Bose with 99.2%
3rd Rank- Narnal Ghosh, Sukriyo Chakraborty, Mrinmoy Mandal and Supriyo Seal with 98.8%
Notice for Publication of West Bengal HS Result 2020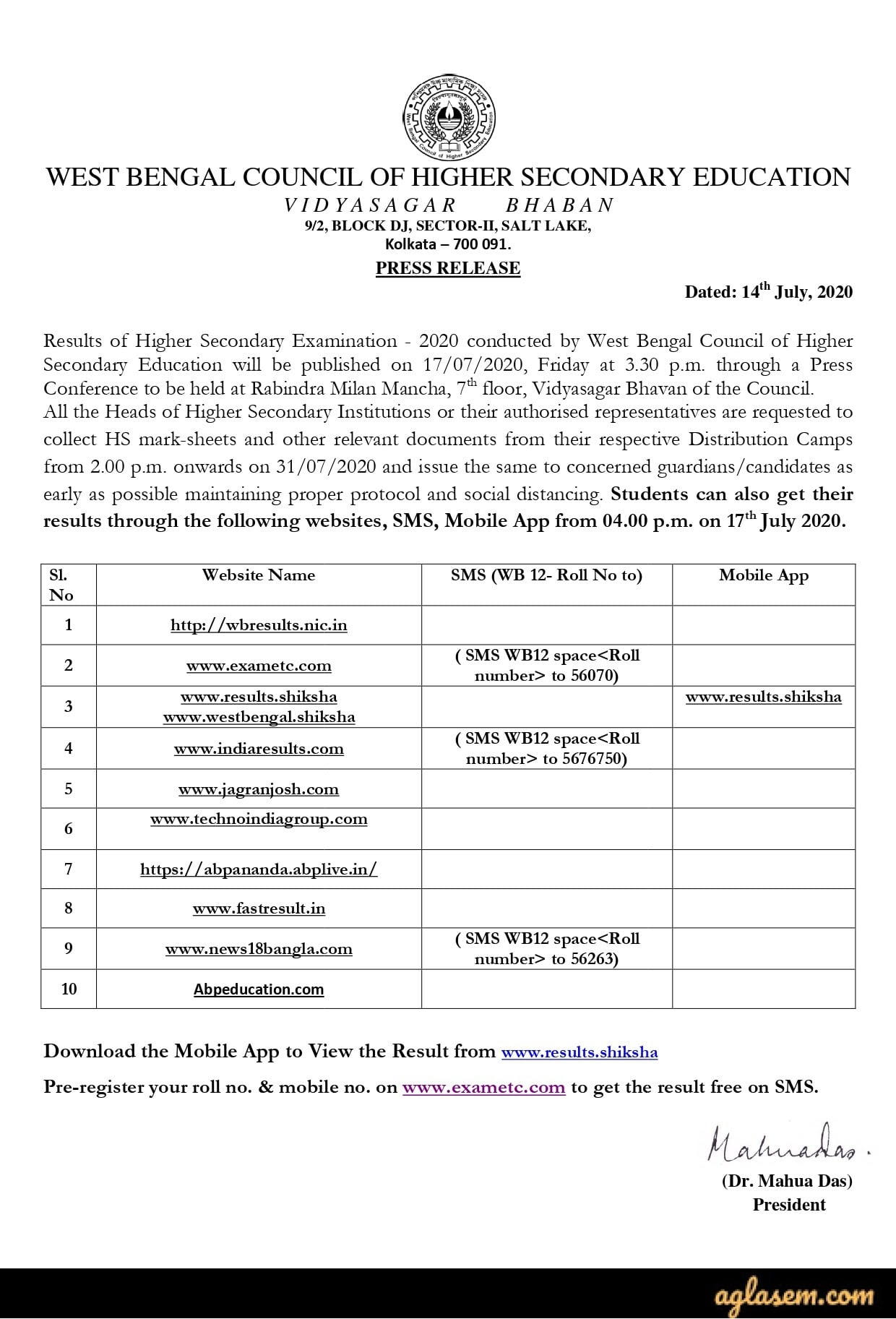 About West Bengal Council of Higher Secondary Education (WBCHSE)
West Bengal Council of Higher Secondary Education is a government body responsible for managing the educational activities in the state. The board came into formation in the year 1975. It is popularly known as WBCHSE. The board provides curriculum, syllabus and textbooks to all the affiliated schools in the state. Higher Secondary exams take place in the month of March. Once the exams are over, West bengal board come up with the result for the same on its official website.
FAQs on WB HS Result 2020
How can I check my WB HS Result 2020?
The result for WB HS exam 2200 is released online at wbresults.nic.in. You will need roll, no. and registration number to check the result.
When the result of HS 2020 will be declared?
It is highly expected that WB HS result 2020 will be announced withing June 10, 2020.
What are the minimum qualifying marks required for West Bengal HS exams?
Students must secure at least 30% or above to consider as qualified.
All the Best!!!
If you have any doubt regarding WB HS result 2020, then let us know through your comments in the box provided below!!!
To get fastest exam alerts and government job alerts in India, join our Telegram channel.